I realized last night that being 41 weeks pregnant is like being packed for your dream vacation, with your best friend, where you are going to see the most beautiful sights you have ever seen. Except you can't get on a flight because your feet have been cemented into the ground, but everyone just keeps texting you and calling you and FB messaging you to see when you are going on this vacation, and you want to go so bad, but it's not possible yet. Your travel agent has offered you to leave a few times but under conditions that you didn't plan, things that don't feel as safe and natural, so you have refused these offers to take off. Your refusal hasn't gotten positive reactions from your travel agents, which scares you and puts a lot of fear in your heart. You are trying to stay calm because anxiety and fearfulness will only delay take off even more. Oh, there are so many opinions, lots of people you know have been to this place before, they have advice and scenarios that are exciting but also scary. At this moment, it's just you and your partner waiting to fly away, and you are finally losing your patience in stand by. As beautiful as the sights are, as wonderful as the feelings will be, the thing you really want is to get on with your life. All romanticism aside, you have a lot of other things to do, you want to be home from this vacation, begin adapting to your new life, the longer this period goes on the more desperate you feel. There's nothing you can do to change it though, there just isn't.

———————-
So, that's where I am right now. Still pregnant. I really can't believe how quickly this pregnancy has transpired, yet I am here at the end of it and not being able to think of anything other than delivering this baby. I guess I will go into a little bit of detail about what has happened thus far, because you might be wondering, or be in a similar boat, or getting ready to leave on this trip yourself. One thing that has really helped me these final weeks is reading other people's birth stories and pregnancy stories, and oh my god, message boards galore (lurker forever).
First, let me quickly summarize my perfect birth plan ~ it's to begin having natural contractions at home, have the opportunity to labor for a while there, shower, have something to eat, get the animals settled, and relax in my own space. When contractions pick up, Joe and I head to the hospital, get checked in, and I am able to have a natural vaginal delivery. Honestly, I always pictured having a home birth with a doula, but when we got pregnant it just seemed really overwhelming to go that route and we decided to go the hospital/doctor way for financial and logistic reasons.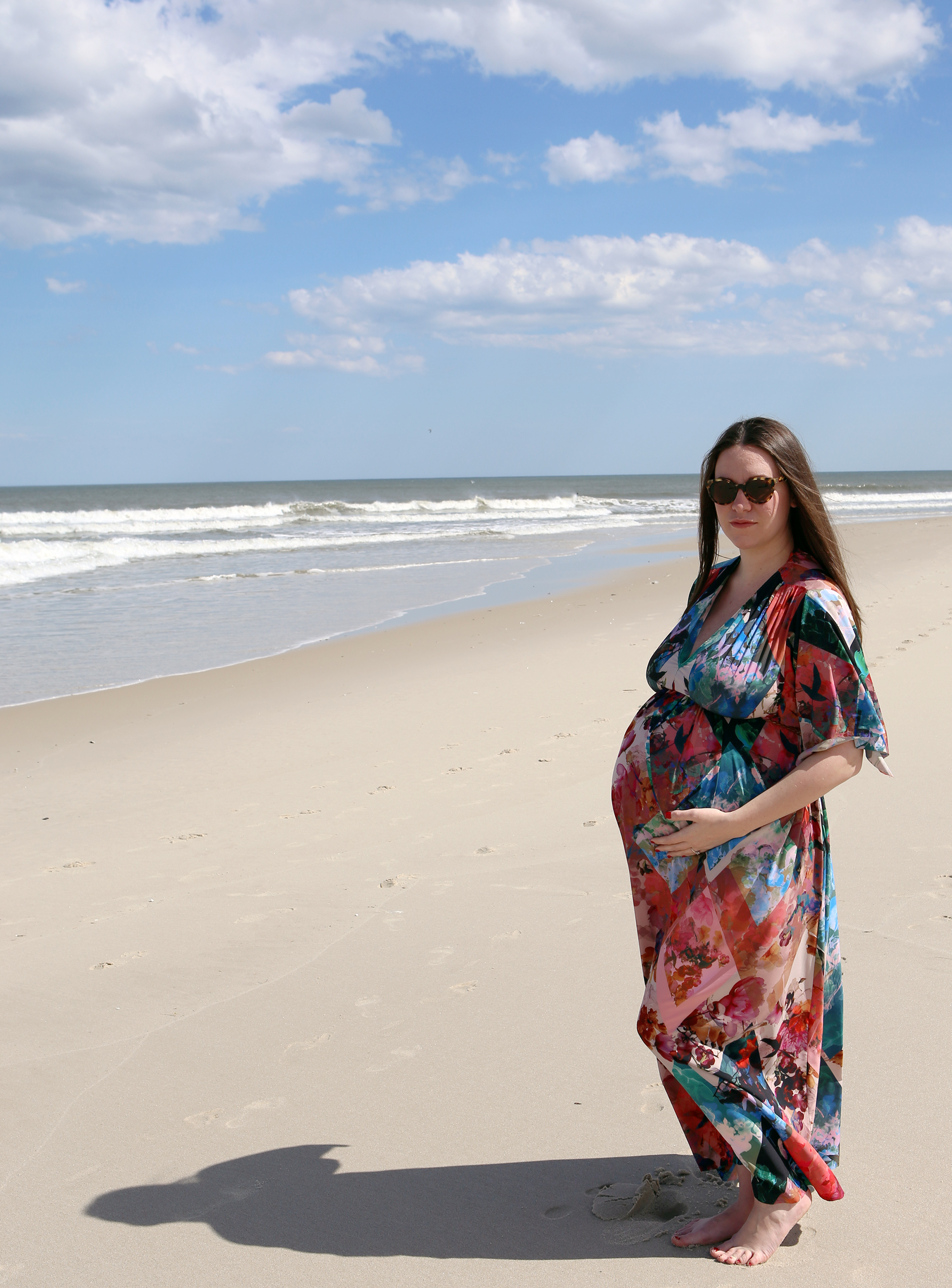 Now, let's get into what my doctors are predicting is going to happen to me, because they are debbie freaking downers and really have not even listened to me when I explain myself. When I say debbie downers etc I understand that they are just giving me all the scenarios, because they have to, etc, but deep down in my heart I know this is what a woman's body was meant to do, and I wish the modern medical world in New Jersey was a little more hip to the scene and not so into placing fear when there really doesn't seem to be anything insanely alarming going on, I wish they would just give me a little positivity with all the hard work I've put in these past 9 months to keep myself and baby healthy, instead when I went over a gain of 35lbs one doctor actually said "it's time to start eating healthy, you have gained the maximum amount of weight" … like.. what! I eat extremely healthy and have stayed fit throughout my entire pregnancy.

Anyway, 2.5 weeks ago my doctor wanted me to be induced. I refused. He sent me in for an NST and blood work, it all came back beautiful, except the baby is measuring big, so they pushed me for induction again before the baby gets any bigger. They were saying 9lbs, but the baby could very well be 8lbs. We wanted to wait, so saw them again when I was 39wks6days, again, they want to induce me, they want to do more testing (which I know is normal and that's fine with me) — this time, the baby measured 8lbs10oz! so that was good news. But really, my issue is that when I say I don't want to be induced they cop an attitude with me … dead pan stares, "Why?." … and make me feel like I am making a bad decision by letting my body progress naturally.

So, I go to 40 weeks, I spend the whole week doing everything in my power to bring on labor, all those old wive tales (spicy food, bouncing on a ball, having sex, walking walking walking, yoga, meditation, pineapple, rose hip tea, red wine, evening primrose oil, staying busy, you name it, I've tried it). We went to the doctor yesterday and met with a different doctor who I hadn't seen in over a month. She wants to induce, we agree that we are open to scheduling something for early next week. She takes this and runs with it and wants to schedule a C-section! like, are you kidding me? Why? Because the baby is big. Okay, well I was over 9lbs when I was born, women have big babies every single day, I am a BIG GIRL! She went on and on about infant mortality rates and this and that and this and that and this and that. It was exhausting and mentally draining. She also told me how it is very unlikely that I will go into labor naturally, that my baby will never drop because it's so big (but also said the ultrasound weight test is very unpredictable) — how if I get induced it "probably" won't even take for me because I'm a first time mom, and that I will need a C-section no matter what (thanks for all that positivity, doc).. meanwhile this is all while I am laying down with my pants off and my belly exposed, I finally couldn't take it and was like "I need to sit up." I was having a full blown panic attack.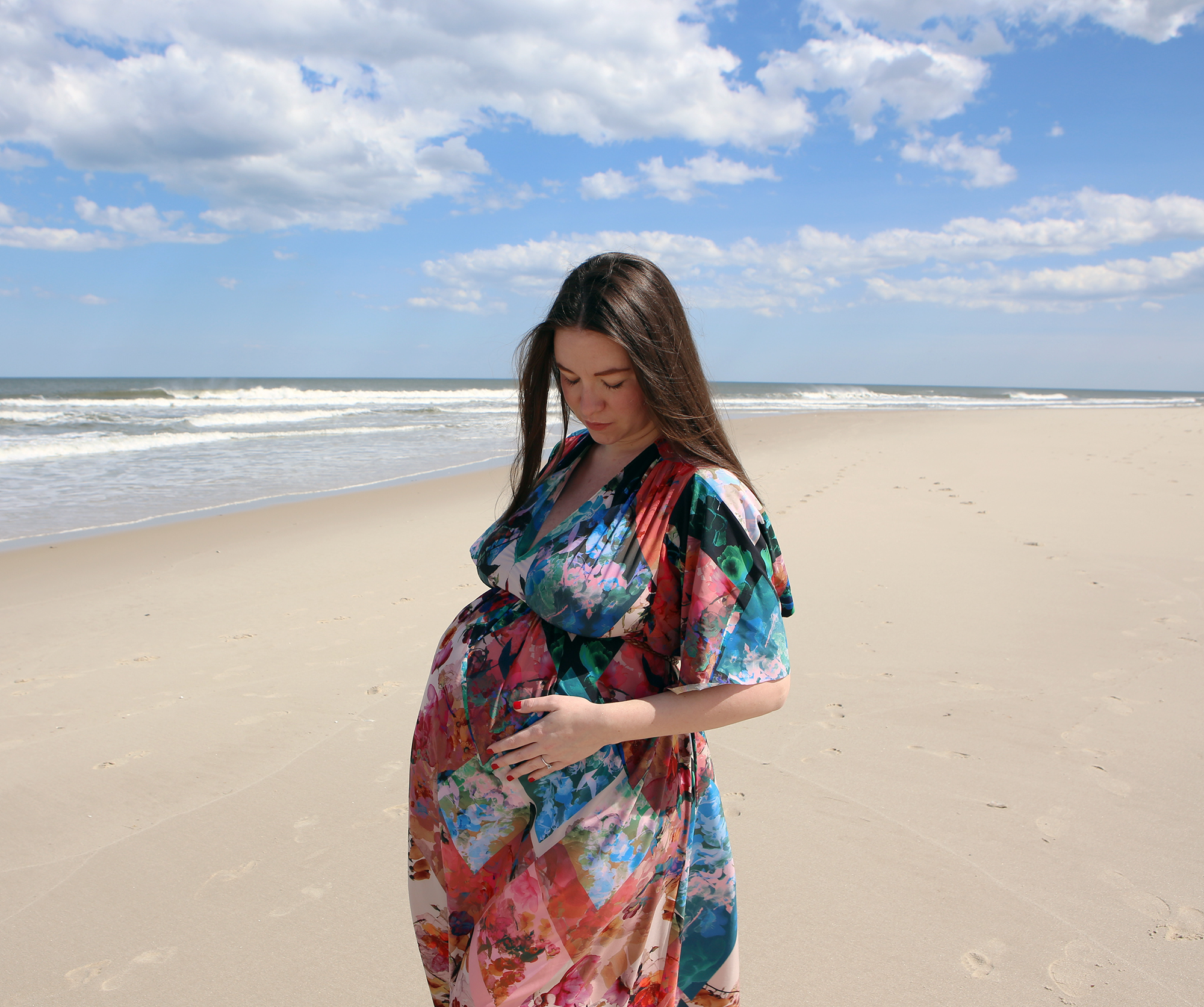 Okay, hold up, I am kind of getting worked up right now writing this and I know that's not good for me. I tried countering her negativity with positivity, like how my sister in law just gave birth to a 9lb3oz healthy baby (naturally) and she's 5'1″! and how if every first time mom is late, just let me live! Almost everyone I talk to was late with their first child, so why are they straight bugging? Also, my first due date was May 9, which wouldn't have me at 41 weeks until Monday. I just feel like they must read off a script to every patient, wanting to induce right away so then they can tuck our charts away and be done with it.

I just really wish I had a doctor on my side who would say something like, "you are healthy, this baby is healthy, you are doing everything right Ashley, just keep staying positive and the baby will come when it is ready" — I have to say, I have a wonderful support system outside of the offices that HAVE been saying these things to me, which makes all the difference. I just can't believe how much they press for the inducing and c-sections, instead of letting a woman go into labor naturally (especially if that is their desire).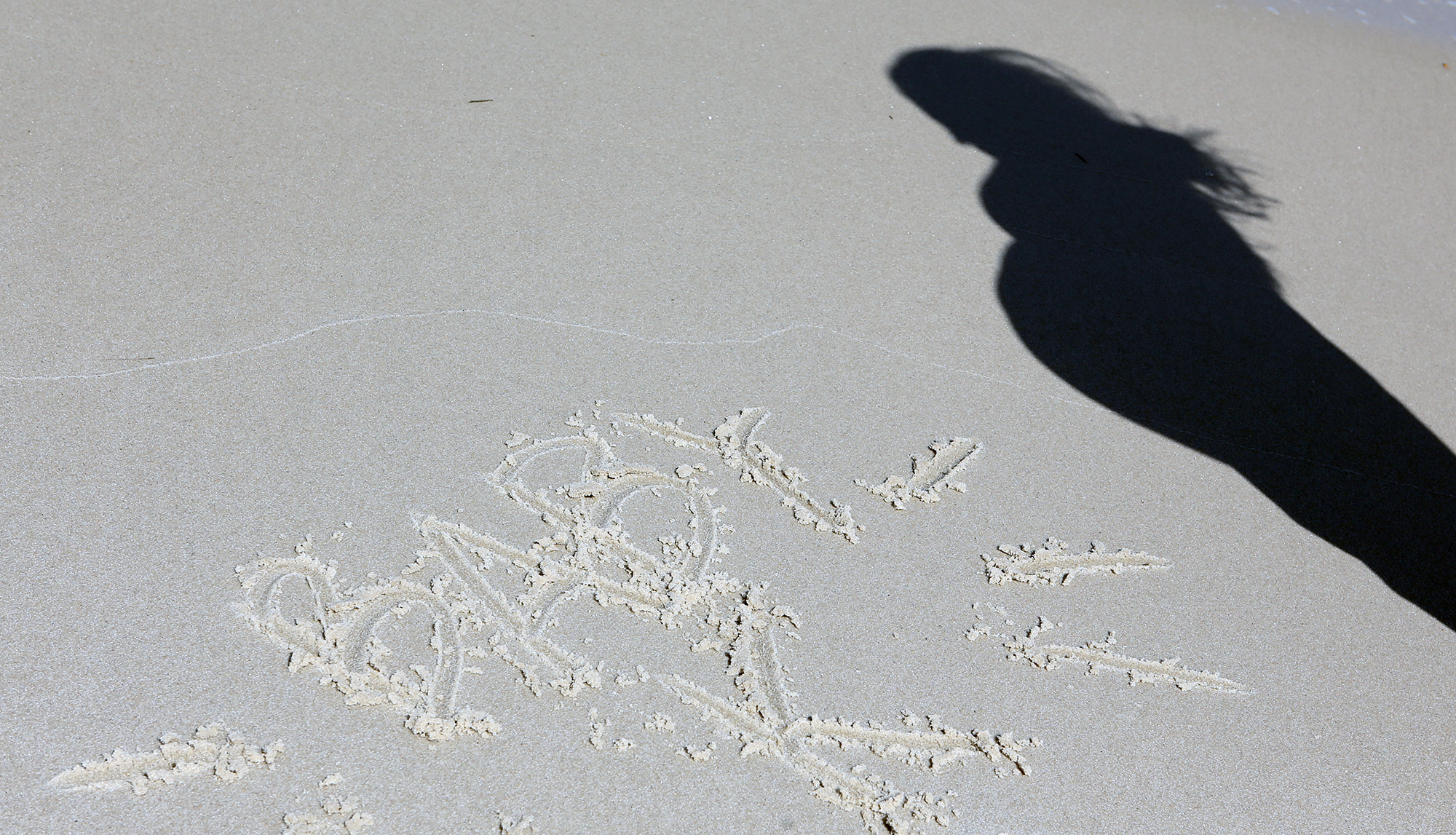 So, basically, there are two issues with my body right now (this body that currently contains two of us), #1 – I have low platelets. I've had them throughout my entire pregnancy. A platelet is the part of your blood that clots, so having a low count could cause bleeding (in various places) during delivery. I have gotten so much blood taken to keep an eye on the count, and we realized that just going to LabCorp and having them test it mechanically makes them very low, so I have also been to the hospital a few times for a manual count. The good news is that a pregnant woman's body is regenerating everything so quickly, we have so much MORE blood, everything is moving quick (hi hair and nails!) ~ and this includes things like platelets. So even though there are less than recommended, they are larger and newer. Right now they are stable, and that is a good sign. If they go below 100 I wouldn't be able to get an epidural (which I don't desire anyway). One doctor in the hospital was telling me that if they are below 100 and there is an issue and I don't have an epidural I will need a C-section under general anesthesia, I asked her about platelet transfusions, which are a thing, and she was like "yeah we could do that too." — wouldn't you rather give a laboring woman a transfusion then push her into a major operation? Am I crazy?

#2 issue – this big healthy beautiful baby inside of me. That I was made to make and am truly not worried about being able to deliver. I have these hips, they have gotten really wide in preparation, I was meant to do this. I am going to be able to do it and I am tired of them being negative. I am a huge believer in negative energy creates more negative energy. I have stayed awake at night accepting the fact that I will most likely not have my perfect birth plan pan out, I know that, believe me. But why would I give up hope at this point? What is a few more days? Baby could still be under 9lbs for all we know. It's all going to be okay. I am a little over 1cm dilated, 50% effaced, and feeling mild contractions – for all you statistic people 🙂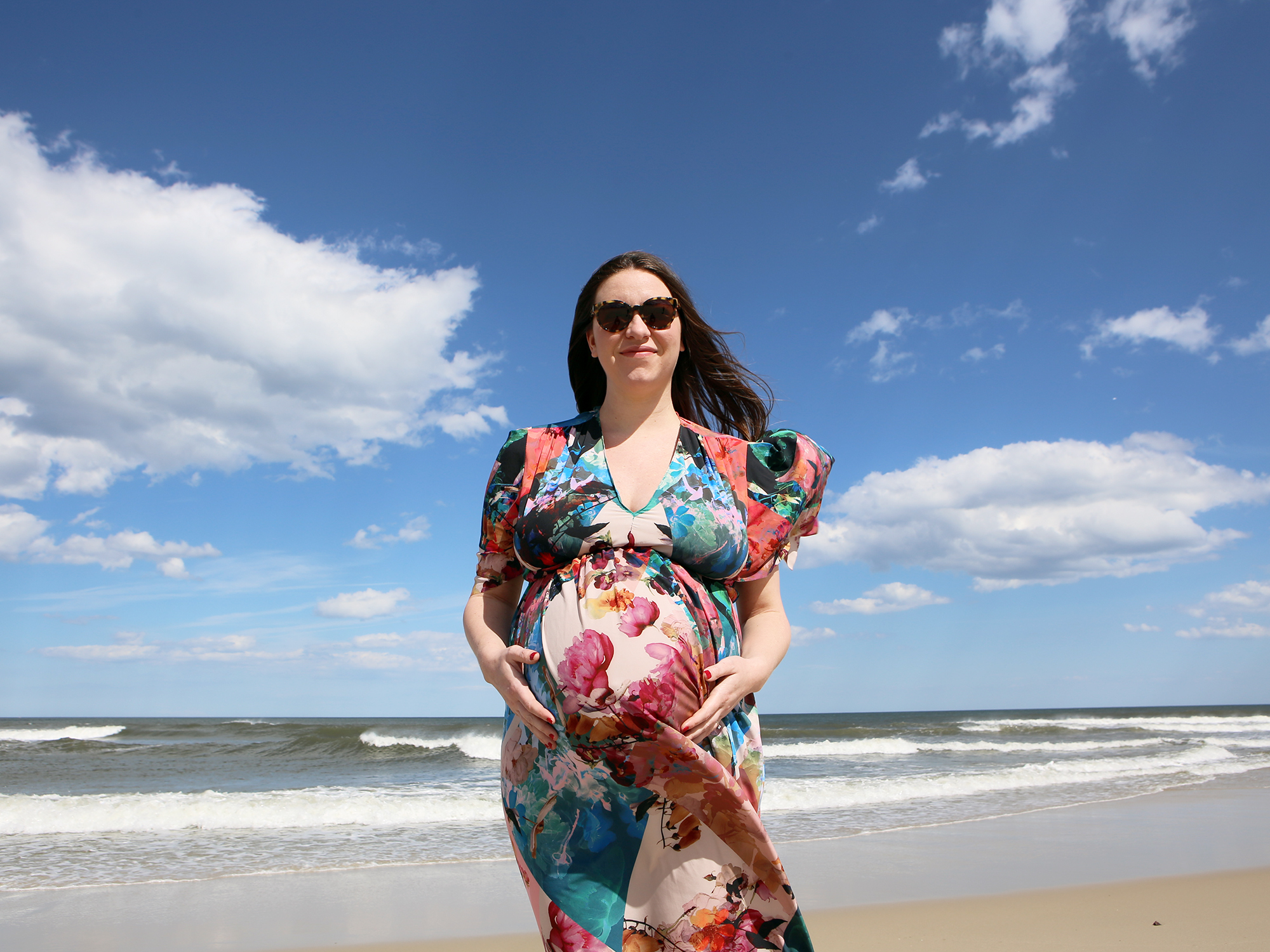 The flip side is that Joe and I have been able to complete nearly every home project that we had going on. The nursery is done, the living room is done, the bathroom renovation is done, it's crazy how we got so much done when I was having such anxiety a month ago about it not getting done before baby gets here. Now my darling little house is just sitting waiting wishing for it's newest little occupant.

So there it is, my current situation. It's a beautiful day down here, I'm at the store, talking to every customer about my belly, while Joe works a pet adoption festival nearby (which I won't dare go to as I might come home with a furry baby). When he gets done we are going to do some gardening, grill up hot dogs for dinner with baked beans and mac n cheese, and watch the sun go down on the beach. It's all going to be okay, right? I just have to stay positive and relax. Thanks for listening.

[Pictures taken by Joe on Mother's Day. Dress made by my Mother]